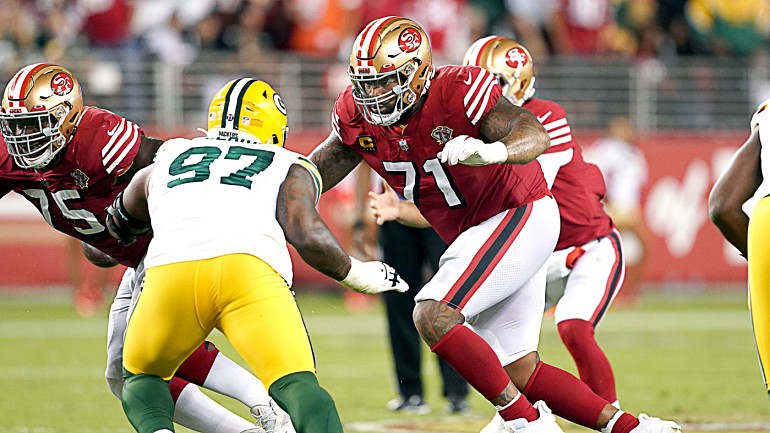 Trent Williams' Pro Football Focus overall score of 97.8 from the 2021 regular season led the NFL. In fact, it was the highest rating ever given by the analytics site. Now some will criticize the grade, arguing that you can't call an offensive tackle the best player in the league.
Don't tell that to All-Pro tight end George Kittle, Williams' San Francisco 49ers teammate.
"Trent Williams is the best football player in the NFL," Kittle said on Friday The Pat McAfee Show (h/t NBC Sports Bay Area). "I do not care. You could talk to me about any other player in the NFL. Trent Williams is the most god gifted person I have ever seen. He literally has the lower body of a wide receiver and the upper body of a silverback gorilla. And he could literally kill anyone if he wanted to."
Williams' 86.0 pass blocking score was his highest since 2016 (91.4). His 97.9 run-blocking score was easily the best in the NFL. Dallas Cowboys guard Zack Martin got the next best run blocking score — 92.8.
"Watch him play," Kittle continued. "In one game, he fakes a punch and drops a guy's head on the floor. And the next game, he just shoots through your chest and flat-backs you. You can't do anything about the guy. Attempts to pass rush him.
"He played in the NFC Championship Game with a sprained ankle and played at a high level. The only way to beat Trent Williams is when he's injured. It's crazy. He's literally the best player in the NFL. Aaron Donald is up there too. I'm a huge Aaron Donald fan. He's amazing, so Aaron, don't get mad."
Then you have the viral block above against the Green Bay Packers in the playoffs, where Williams paves the way for ball carrier Elijah Mitchell. It's just one example of Williams' value on the 49ers' offense. Kittle told a funny story about this particular piece. "That's really great because we looked at it as an offense — the play that we ran in practice — because the defense didn't know it was coming," Kittle said. "And the D end on the side, I can't remember who it was but I'm pretty sure he just turned and ran on the sidelines. Like he just ran out of the way completely."
Can you blame him? There probably aren't many NFL players who would willingly try to stop Williams from rumbling past them at full speed as if he were a full-back.
To think the 49ers acquired Williams, an All-Pro and nine-time Pro Bowl pick, for just a fifth-round pick in 2020 and a third-rounder in 2021 is insane.
Nobody is perfect. Found an error in this article?
reports it.
Facebook comments
More San Francisco 49ers news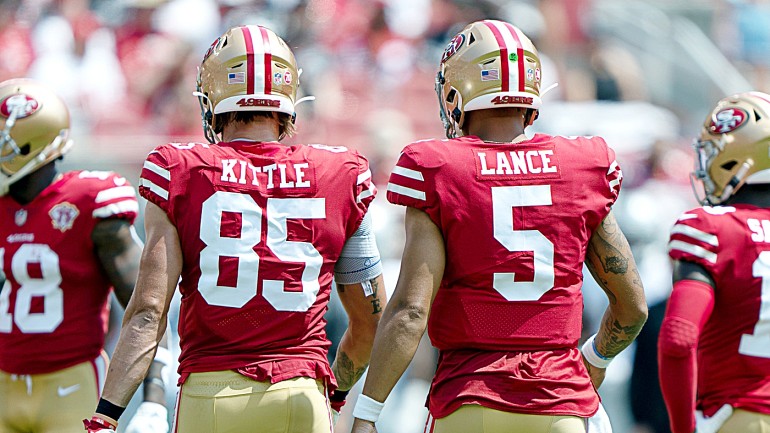 George Kittle impressed with Trey Lance's progress, says 49ers QB benefited from Jimmy Garoppolo
It's not easy to speculate on Trey Lance's development during training. Most of those who criticized the young quarterback didn't watch him every day. One player who has been watching Lance every day is his San Francisco 49ers teammate George Kittle. The All-Pro tight end loves what he's seen of the now 22-year-old quarterback. Lance is expected to be the 49ers' starter in Week 1 of the upcoming season. However, starter of the last four and a half seasons Jimmy Garoppolo remains in the roster. Garoppolo is recovering from shoulder surgery he underwent on March 8, so the 49ers won't be able to trade the veteran quarterback until he's medically cleared for the rethrow. Kittle joined The Pat McAfee Show on Friday and was asked if Garoppolo was staying
George Kittle spoke to Deebo Samuel, says 49ers WR are 'in a good place'
The drama surrounding Deebo Samuel has calmed down a bit. Much of this stems from the San Francisco 49ers not granting his pre-draft trade request. By not doing so, the team explained that they believe the relationship with their all-rounder can be repaired. George Kittle did the media rounds today. Of course, among the questions aimed at the All-Pro tight end is Samuel's status. After all, it's a story that dominated NFL headlines en route to the draft. "I actually spoke to him a few days ago," Kittle said on The Pat McAfee Show. "Yes, he seemed to be in a good mood. He was hanging out with the kid he just had. … I didn't ask about his contract, so we just talked about other things,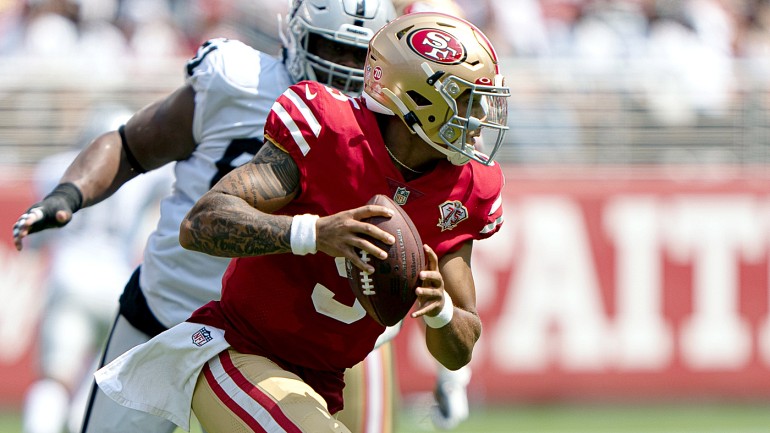 George Kittle: 49ers offense to get 'more exciting' with Trey Lance
Trey Lance seems to have a lot of doubters this offseason. Many question his willingness to be the starting quarterback for the San Francisco 49ers, the team that drafted him third overall last year. George Kittle is not one of Lance's doubters. Yes, the All-Pro tight end concedes there could be some growing pains for the young quarterback this season. After all, as a rookie, Lance only started two games and only played 178 snaps. Kittle also recognizes the level of talent in the 49ers roster. This talent could carry the sophomore passer should there be any early struggles. "When it shakes like that, and Trey Lance is that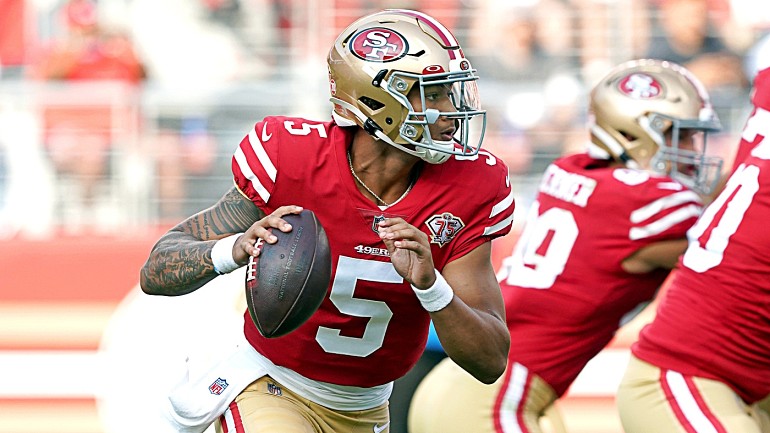 49ers' Trey Lance among QBs to join George Kittle, others at TEU in June
George Kittle, Greg Olsen and Travis Kelce will once again host Tight End University (TEU), an annual gathering of NFL tight ends to share their experiences and learn from one another. Last year's inaugural event featured 49 tight ends. This year's meeting is set to be even bigger. TEU takes place June 22-24 at Vanderbilt University, an upgrade of the high school facilities used in 2021. After a strong response last year, 75 NFL tights ended – including @gregolsen88