Airbus Helicopters will use three prototypes for its Tiger MkIII upgrade program for France and Spain as development work begins in earnest after signing the contract with procurement authority OCCAR in March.
The maiden flight of the upgraded attack helicopter will take place in 2025 using a customer-donated airframe, followed by two additional flight test facilities, also from customers, says Victor Gerin-Roze, head of the Tiger MkIII program.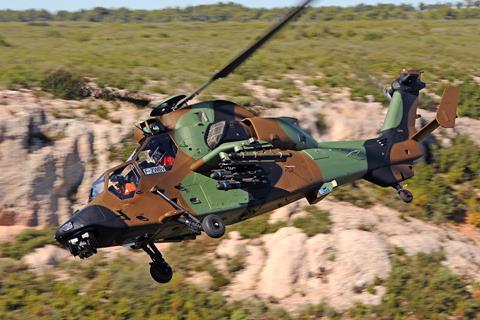 The qualification phase will result in France receiving the first example in 2029 and Spain in 2030, says Gerin-Roze, and deliveries are expected to run until the mid-2030s.
Spain will take delivery of 18 updated MkIII Tigers from a current stock of 23, while France will upgrade 42 of its 69-strong fleet to the new standard, with options for a further 25 airframes. In addition, Germany, which operates 55 Tiger UHTs, has yet to join the program.
Although these additional airframes will increase the overall duration of the program, Gerin-Roze believes the impact of the increased numbers will be "limited".
"We will adjust our production capacities. The idea is to minimize the retrofit time – we won't be stacking the planes."
Originally designed as a trinational program, Germany has to decide whether to participate by mid-2022, but can still join at a later date, albeit under slightly different conditions, adds Gerin-Roze.
The MkIII upgrade is underpinned by the idea of ​​a common standard between the three partner nations. Although certain differences in configuration remain – Germany's Tigers retain their mast-mounted electro-optical sensor, for example – the "common backbone" between the helicopters means it's just an "integration issue".
Likewise, the weapons available under the MkIII program vary from operator to operator: France will equip its helicopters with the MBDA MHT air-to-surface missile, while Spain is likely to use Rafael's Spike ER2 ammunition.
Both nations will also receive laser-guided missiles from an unnamed supplier, Gerin-Roze says, as well as an improved chin-mounted cannon and an "upgraded" version of the MBDA Mistral 3 air-to-air missile.
Other improvements include new avionics, a FlytX all-glass cockpit and Thales TopOwl helmet, improved communications and connectivity, a new electro-optical sensor – Safran's Euroflir 510 – and an improved countermeasures system.
In addition, the Tiger MkIII can interoperate with unmanned installations, although the degree of interoperability has not yet been announced.