Oregon Football added another punter after completing spring training.
On Thursday, former Temple punter Adam Barry announced his involvement with the Ducks.
"I'm home. Let's go to work!" Barry said in his engagement post.
Barry entered the transfer portal after spending the last three seasons (in a red shirt with the Owls). He is the second bettor to sign after Oregon this week Ross James' commitment on Wednesday.
While playing in the American Athletic Conference, he appeared in 20 games and batted the ball 102 times for a total of 4,104 yards, averaging 40.2 yards per punt. He pinned the ball 34 times inside the opponent's 20-yard line and was a 62-yard long at Temple.
Scroll to Next

Temple P Adam Barry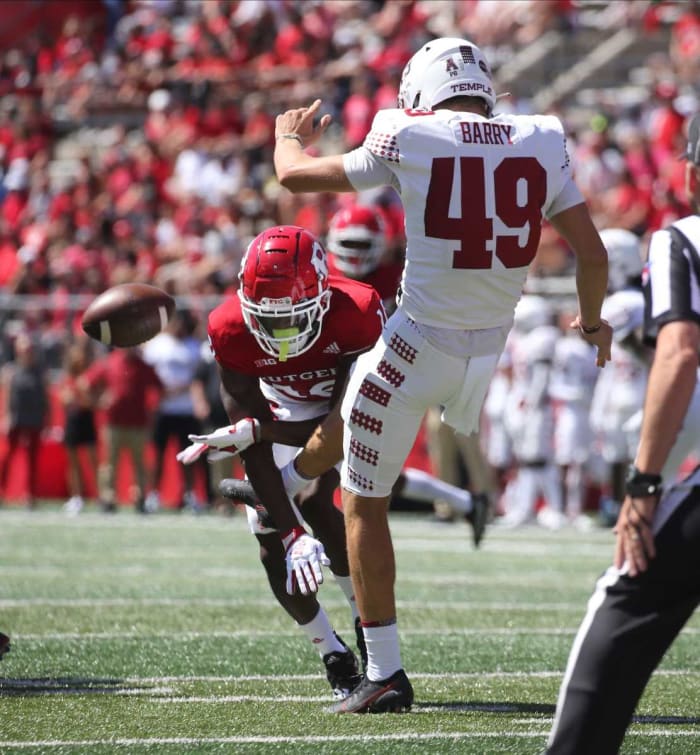 Temple punter Adam Barry jabs the ball in a game against Rutgers at SHI Stadium.
Temple P Adam Barry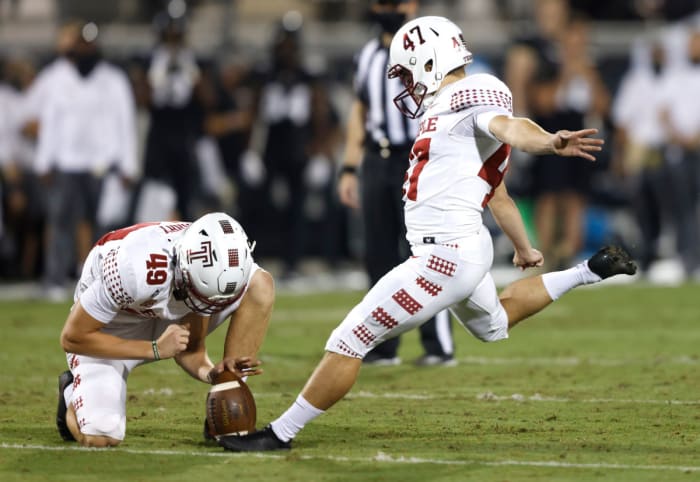 Temple Owls place kicker Rory Bell (47) kicks a field goal from punter Adam Barry (49) in the second quarter against the UCF Knights.
Temple P Adam Barry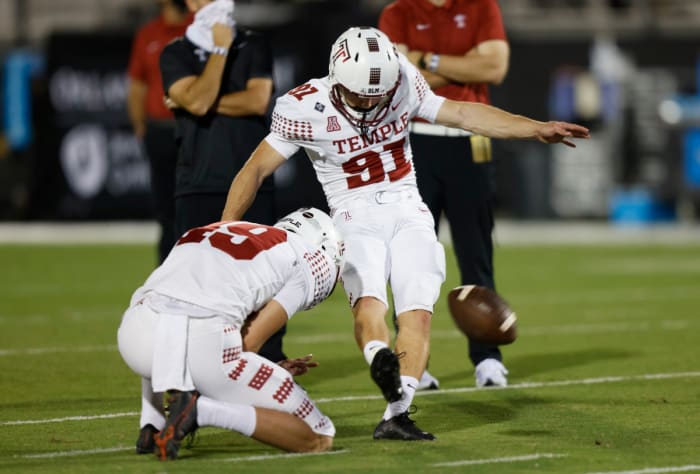 Temple Owls place kicker Will Mobley (91) kicks the ball out of the hold of Temple Owls punter Adam Barry (49) during warm up before the game against the UCF Knights at Bounce House.
Before arriving in Philadelphia, the 6ft 6, 225lb Barry began his college career by playing in the junior collegiate ranks at Independence Community College in Kansas, known to many as the school featured in the third season Netflix's "Last Chance U" was featured. At Independence, the Prospect, Kent. native averaged 37.4 yards on 47 punts in nine games that also included a 72-yard long.
The Ducks have seen major news with their Specialists this offseason Will Hutchinson, Henry Kattleman, race Mahlum and Cristian Palazzo all enter the transfer portal. Hutchinson was the only punter available in the team's annual spring game as there was no veteran tom snowwho Dan Lanning said was "off" the program after the spring game, having been absent from all practices.
Oregon signs Washington state transfer kicker Andrew Boyle in February, but he wasn't on the team during spring football.
Join the community
Follow Maxi on Twitter: @mtorresports
Sign up for our FREE newsletter to get the latest Oregon Ducks news straight to your inbox
Join the discussion in our forums HERE