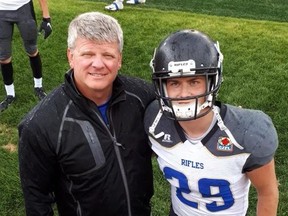 content of the article
Sometimes it only takes one person to make some noise.
content of the article
When news broke last month of sexual assault charges against a Winnipeg high school football coach involving several of his players, the local football community was shocked and appalled.
Should the allegations prove true, the story has the potential to become the football equivalent of the Graham James hockey saga.
Immediately there were those who said they saw signs of inappropriate behavior. Some parents even reported it to the school and department at the time, as we have now learned.
But apart from sending the coach to a training program, nothing happened.
Kelsey McKay, 51, is facing 22 charges including sexual assault, sexual exploitation and grooming involving eight alleged victims, seven at Churchill High School, one at Vincent Massey Collegiate.
Originally, five of his former players had come forward, followed by three more.
The incidents occurred between 2004 and 2011, most at the coach's home.
Apparently the security measures in place were not good enough.
This is where Geordie Wilson comes in.
A former coach at Tec-Voc, Wilson now directs the Winnipeg Rifles, a junior program unaffiliated with any school board or other political entity.
So while high school coaches and other members of the football community were reluctant to speak out, Wilson climbed to the nearest rooftop and shouted to everyone who would listen: We must do more to protect our children.
The father of two also began meeting with provincial politicians, and when the PC government didn't take him seriously enough, he joined the opposition NDP.
content of the article
Wilson's cage rattling paid off.
Education Secretary Wayne Ewasko, one of those he met with, sent a letter to schools outlining tough new guidelines that should make a difference.
First of all, coaches and teachers are prohibited from taking students into their homes unless they receive written permission from the principal.
There is also an emphasis on the rule of two, which requires a second adult to be present at out-of-school meetings.
In addition, trainers, teachers and staff must complete new training on abuse detection and prevention.
"It's a good start," Wilson said. "But we're not done yet. I sometimes feel like it's pushing a boulder uphill. Why is this so difficult? We can all agree that this is disgusting and appalling. Why do we have such a struggle to make this happen?"
Wilson wants severe penalties for teachers who break the guidelines.
He's also asking the province to spend some money to better promote the Safe Sport Line (1-833-656-SAFE or 7233), a place to report suspected bullying, harassment or abuse.
"That number needs to be slammed in people's faces over and over again," Wilson said. "And what is the meaning of the number – what does it do? What happens when I call? We have to tell people what's going to happen."
Wilson says it's also time to use advertising to explain to parents and students what nursing looks like, beginning with the first assembly of the school year.
Since speaking up, Wilson has heard from parents of students who have had inappropriate interactions with McKay. They worry that their child has been nursed or worse.
content of the article
They speak of text messages that went far beyond typical coach/player communications, email chains that amaze them all these years later.
In a particularly disturbing story from a parent, McKay opened up to players about his sex life.
"We need to show what grooming is… Bring these guys out of the shadows and into the sunlight," Wilson said. "Give them fewer locations. Why are they attracted to education and coaching? Because there are many fish. We have to accept that this is a reality. And we have to try to clamp it as tight as possible."
Wilson also wants better support for the victims, the heroes of the story.
"It's not your fault what happened," he said. "That's the guy over there. If we make it easier for people to come forward, we can reduce the number of victims."
The NDP is putting together a bill for a private member, but Wilson is hoping for a bipartisan approach that will result in a "gold standard" for child protection in the province that produced McKay and James.
Upon hearing Wilson's public statements on the subject, these parents felt more comfortable bringing up their own stories.
He finds some comfort in that, but doesn't rest on it.
"It feels good in the sense that we're moving the ball around the field," Wilson said. "I would say we're in the red right now. We just have to finish.
"Let's make it great so we can protect our children and help our victims."
[email protected]
Twitter: @friesensunmedia