Changes in recruiting culture
– Super K – Posted on: May 17, 2022
As you know, the NCAA recently issued new guidelines for the player NIL. In case you missed it, we discussed some of these changes in a recent post (here).
*** We have all observed some of the residual recruitment impact of this type of Wild Wild West, an unregulated NIL environment. As I mentioned, it has recently become a world where a staff can get it all right and everything seems to point towards making a commitment only to lose a player in the last hour to a "NIL deal". .
***In a very short time, the recruiting culture and the expectations of the recruits were turned upside down. I've heard story after story from parents and other people close to the player who basically went to visit expecting to be told how much money the player would receive.
*** There are a number of children, whether engaged or not, who "keep their options open" while continuing to hear, or expect to hear, of new offers.
*** I've heard stories of boosters actually being present at a player's visitation and basically explaining to the player and their family how much money they will receive. This has come to light.
***Again, all of this (and more) has rapidly changed the recruitment culture and player expectations.
*** I mention all of this because I want everyone to remember that while the NCAA has now provided guidance and re-authorized compliance departments, it will still take a month or two to recalibrate the recruiting culture. There will likely be some aftermath by the 2024 course, but I think you'll see a lot of the most egregious things and some of the more prominent issues that are mostly gone when the summer officials start to wrap up.
***Players will obviously no longer meet with boosters. You'll probably get compliance lectures again. The trainers will play things much, much tighter, so discussions around NIL will be more curated and regulated. There will be far fewer trainers involved in connecting recruits to boosters. And perhaps as important as anything, coaches will be much more discreet when discussing these things – discretion or secrecy sends the clear signal to recruits and their parents that what they are discussing is not decent.
*** And I think that was really the problem – the fact that these things, which are clear violations, became so blatant that they created sudden expectations that could easily be voiced and answered. If it's pushed back underground, I think that will have a powerful impact in recalibrating the recruiting culture to the things that mattered before — academics, location, coaching, NFL development, etc.
***Like I said before, cheating has always happened and always will, but this can be overcome. It was the proliferation of this essentially game-based system that made recruiting and, by extension, recruiting coverage and tracking challenging.
***The NIL remains part of the official visitor sites. But it will be about the NIL as it was intended – marketing and branding opportunities for players once they arrive on campus that put them in a better position to monetize their brand success. But that's very different than a booster sitting in one of the offices waiting to tell a kid and their parents how much money he'll give them if they choose that school.
*** So, like I said, put it through the summer visits and I think you'll see things shift back to a recruiting culture that you're much more familiar with.
---
#1 2024 LB Payton Pierce ready to see Norman and meet coaching staff
– CJ Vogel – Posted on: May 17, 2022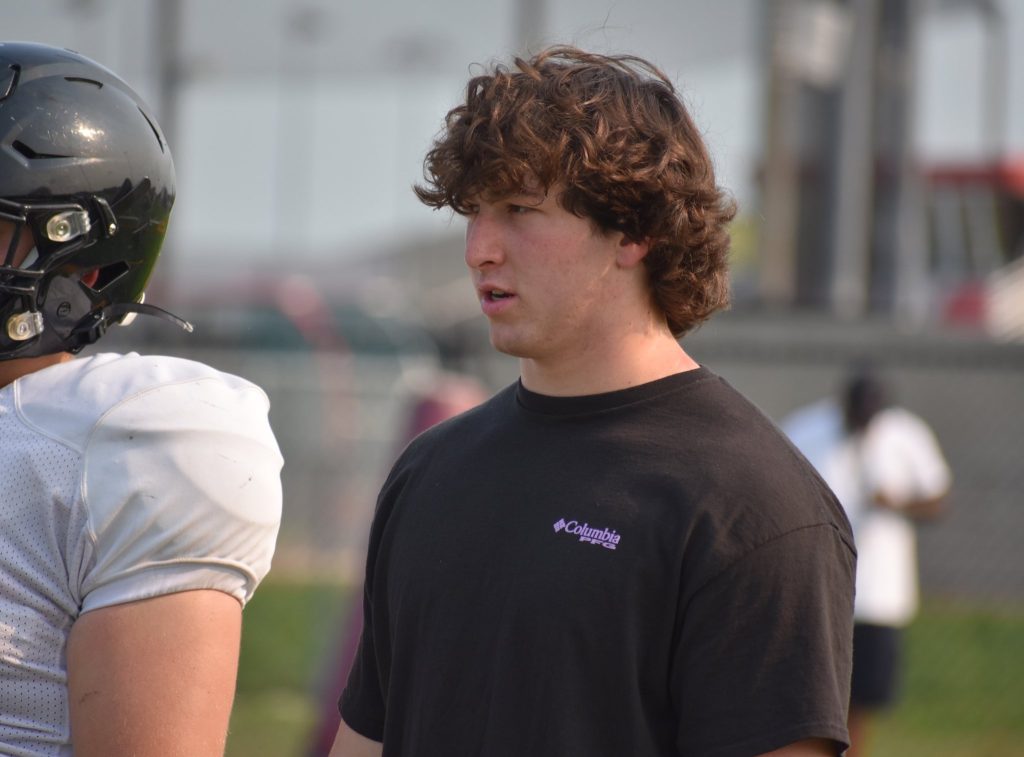 2024 LB Payton Pierce is the #1 LB in the country according to Rivals and I think the rest of the industry has some catching up to do. Pierce is recovering from an ankle injury but only brought home a state wrestling championship last month.
The Sooners offered Pierce on April 28 and have made a tremendous leap early on in that recruitment. I think Brent Venables and Oklahoma's marriage is something to really watch for in this recruitment. Pierce, who canceled plans to visit Oklahoma last weekend, plans to visit Norman on June 11 when the coaching staff is back on campus.
This upcoming visit will mark his first time on campus with the entire coaching staff and it is very important for Pierce that he develop a strong relationship with HC Brent Venables. His track record of developing linebackers and placing guys in the league will go a long way in his recruitment. Should the visit go well, I would have no reason not to pin OU as an early team to beat here.
Pierce also has family ties to Norman, as his grandfather was also an ancestor at the time. I'm not going to say it's a closed case, especially with so much time allotted for this entire recruitment, but that's going to be very difficult for Texas to fight.
Despite this, there are still many factors that connect Pierce to Texas. For one, he has an established relationship with LB coach Jeff Choate and has now visited Austin several times. He is also coached by former Texas S&C coordinator Yancy McKnight, who will again lead Lovejoy's off-season training this summer. Pierce will likely be heading back to Austin this summer as well.
Right now I think the three teams to beat in this draft will be Oklahoma, Arkansas and Texas. I haven't heard much about Texas A&M, but I'd be surprised if they didn't eventually get involved in this recruitment.
---
The Latest | Ashton Cozart
– Charlie S – Posted on: May 17th, 2022
Now that the report on Ashton Cozart's visit to Oregon is out there, I thought it would be a good time to share a conversation I had with him last Thursday.
I was planning on doing this tomorrow, but timing is important.
I've spoken a little with Ashton about all the excitement around Michigan that several of you have brought to our attention and I think it's safe to say that he's going to be going through part of the recruitment process at this point.
I told Ashton that fans are starting to notice all the excitement being generated by a Michigan reporter about how aggressively they are pursuing him. I asked him what he thought about his involvement in Oklahoma and where things stood.
Cozart said: "In this age of recruitment and NIL we all agree that anything can happen at any time and until you sign the dotted lines I need to treat this like a deal. Right now I'm committed to Oklahoma and have no plans to sign anywhere else."
He added: "However, what if there were another place that offered me a better opportunity for my ultimate goal, obviously it would be wise to look into it further."
He continued by saying, "It's not aligned with Michigan at all anymore. I say this for every school that's still trying to recruit me.'
He concluded by telling me, "This doesn't change the fact that I love Oklahoma and all that the school has to offer, but I have to make a decision that will affect the rest of my life. With this in mind I am not opening up my recruitment and there are only a few schools that I will be staying in touch with at the moment.'
With the Oregon visit revealed, they're obviously one of the few schools he communicates with. I would like to add that I have not confirmed that this visit is self-managed which is why I said it was reported.
Well, we all know the OU's attitude towards "encounters" taking visits… it's frowned upon, and Brent Venables has basically said he doesn't consider a recruit making visits an obligation.
Something we'll be keeping an eye on, but I can tell you that OU was aware that Cozart was speaking to schools, but he said he "didn't really talk much about it" at the time.
---
Reid Mikeska | Personal | first thoughts
– Super K – Posted on: May 19th, 2022
*** As you know, the Sooners hosted 2023 TE and former Clemson commit, Reid Mikeska (Bridgeland, TX) this past weekend.
*** I stopped by Bridgeland yesterday to see Mikeska and here are my initial thoughts on his recruitment.
***Mikeska hasn't worked out, but he's a big guy for height. I would say a true 6'5. A bit of a newbie to soccer, although his father played college ball.
***I was intrigued by Mikeska when I heard from a friend down in Alabama that the tide was really pushing him.
*** Reid has confirmed that he fired Clemson because Dabo doesn't allow visits and he had some important visits he wanted to make including the visit to OU.
***He has an upcoming visit to Miami.
*** He's not trying to drag this out. The young man is sharp and very focused. He's really just trying to make visits to make a more informed decision. I have a feeling that once he's done his June OVs he'll be announcing almost immediately afterwards.
***Earlier ones will get an official.
*** My first reading on this is that this is currently a fight between Florida and Oklahoma. I think there's still time for schools like Miami and Alabama to make a move. Here, too, he is still evaluating. But as things stand now, I've read that Florida and the Sooners are probably 1a and 1b. Ty Darlington makes things interesting.
---
June 3 Official Visitors | work list
– Charlie S – Posted on: May 19, 2022
As you all know, the Sooners will be hosting a big recruiting event over the weekend of June 3rd.
We already have more than two dozen confirmed official visitors and you can expect more to be added to this list.
Then you have '23, '24, and '25 kids who will be unofficially in town…which we'll get to later.
I will update the list regularly to bring it back to the top as the days go by.
Just because you don't see a name on the list doesn't mean the recruit might not be in Norman. This only accounts for official visits, and the list will change.
---
'23 Official visitors
'23 QB Jackson Arnold – Denton, TX – OU Commit
'23 RB Richard Young – Lehigh Acres, FL
'23 RB Daylan Smothers – Charlotte, NC
'23 RB Tre Wisner – DeSoto, TX* – Need to confirm again, he gave me this information before committing
'23 WR Mikal Harrison Pilot – Temple, TX
'23 WR Jaden Greathouse – Austin, TX
'23 WR Anthony Evans – Converse, TX
'23 WR Jaquaize Pettaway – Houston, TX
'23 TE Reid Mikeska – Cypress, TX
'23 OL Josh Bates – Durango, CO – OU Commit
'23 OL Wilkin Formby-Tuscaloosa, AL
'23 OL Logan Howland – Princeton, NJ
'23 OL Cayden Green – Lee's Summit. MON
'23 OL Brycen Sanders – Chattanooga, TN
'23 OL Payton Kirkland—Orlando, FL
'23 DL A'mauri Washington – Chandler, AZ
'23 DE Rueben Bain—Miami, FL
'23 LB Anthony Hill – Denton, TX
'23 LB Phil Picciotti – Percasia, PA
'23 DB Jalon Kilgore – Eatonton, GA
'23 DB Tyler Turner – San Antonio, TX
'23 DB Makari Vickers – Tallahassee, FL
'23 ATH Jacobe Johnson – Mustang, OK
'23 ATH Erik McCarty – Mcalester, OK – OU Commit
'23 ATH Samuel Omosigho – Crandall, TX